With a dramatic increase in situational uncertainties, COVID-19 has put businesses—of all sizes —in a difficult time. The pandemic has altered lives and livelihoods, which has become a universal pain point for brands across industries. The limitations, imposed for preventing the spread of this pandemic, have led to business slow-down severely in some industries, while others are least affected by it. We have witnessed some major changes happening in businesses across industries. And we have found that several companies have knocked off-balance due to the shift in consumer behaviour, supply chains, and routes to market.
If you're experiencing the same, we suggest you adopt a simple solution—stop panicking. There are a number of ways with which you can turn the table to your advantage by making small but smart changes to your business marketing strategies. Or follow the basic rule of any business, create a revenue stream around the consumer requirements.
COVID-19 has forced people to stay indoors. Even if they're stepping out of their doors they are looking for safety measures, as they would rightly expect in a virus-ridden environment. This is where industries can step in with their renewed products and services. Businesses can achieve new-acquired goals by repositioning their brand strategies to meet the surging demands for safety and protection. The whole idea is to stay in line with evolving consumer preferences.
Anecdotally, the retail industry has suffered from the temporary closing of traditional in-store retail businesses. However, this situation has given e-commerce businesses a chance to bloom. Thereby, the e-commerce businesses are trying to increase their safety measures and protocols to meet the hygiene standards. If you own an in-store retail outlet, it is the best time to digitally transform your business. Nevertheless, it is still a big challenge for both players to thrive in the pandemic.
In this blog, we have compiled a few tangible actions that brands can take to pivot their businesses through this pandemic.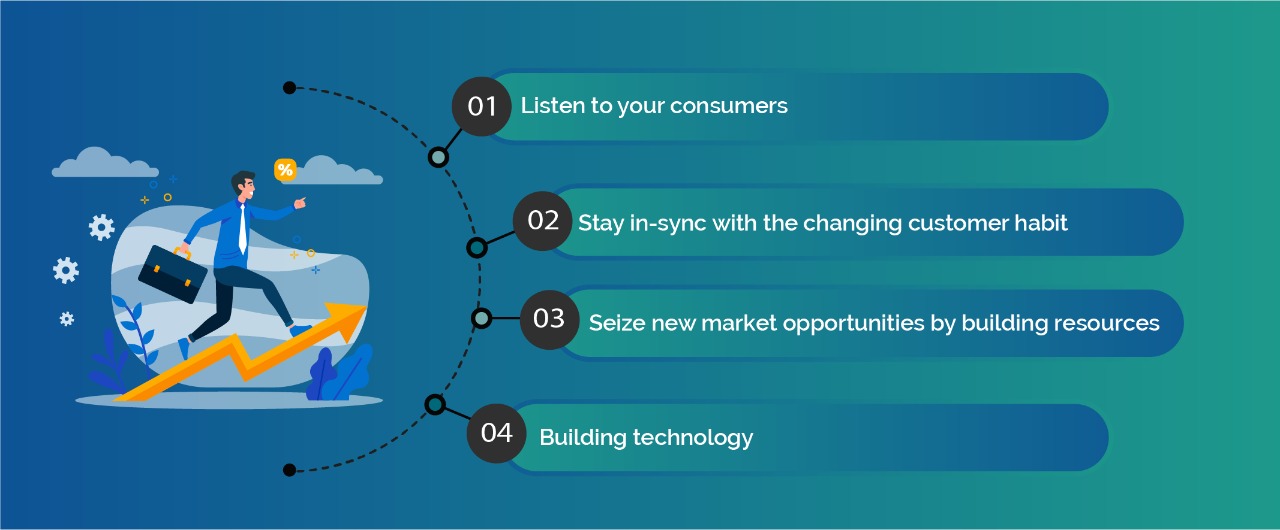 1. Listen to your consumers
Now the adage might not sound like an exclusive discovery, but trust us, when we say that the need to listen to your consumers is more important now than ever. Roll out digital surveys asking what your consumer wants? What challenges are they facing with your current product or service? What changes they would like to see in your product or service? An answer to these questions can prove to be your revised and improved service that can change the downturn for good.
Take an example of Zomato, a restaurant aggregator and food delivery brand. On the onset of COVID-19, Zomato has rolled out Contactless Delivery service with which it aimed to minimize contact between its users and delivery executives. Moreover, they highlighted eligible restaurants, which followed WHO's safety practices and checked rider's sanitization.
---
2. Stay in-sync with the changing customer habit
As mentioned earlier, the pandemic has changed our lives and livelihoods that have resulted in a major shift in consumer behaviour and purchasing patterns. This is a clarion call for businesses to understand the target audience in a whole new way.
In the present scenario, companies are forced to leverage their existing infrastructure to provide safe delivery of their products and services. For instance, there is a huge pressure on company contact centres to deliver relevant customer experience. The need to maintain social distancing has led to structural changes that have given the pivot to digital transformation. Everyone knows that the digital channel has the power to efficiently expand the services as well as add new lines of products. Thereby, making it the most effective solution to capture new market place opportunities.
There are other ways to meet customer requirements other than digitally transforming your business. Take an example of a startup company based in Texas, U.S. This company engages itself in the UV lighting business and they work in collaboration with corporations. In COVID-19, this startup is leveraging its UV technology to disinfect clothing and medical-grade apparel. It is a smart way to turn your business as the situation calls for it. However, twisting a business will require some infrastructural changes, additional manpower, cost, and of course coming up with optimised advertising strategies.
---
3. Seize new market opportunities by building resources
In a time of uncertainty, businesses need to make some strategic moves to capture new market opportunities as they arrive. This can potentially open some new revenue gates for the business. However, this has to be done in pair with optimizing the company's resilience to ensure its survival. It may look like the stakes are high, but a carefully-designed marketing strategy may help the business not only thrive in the present but secure its future. Now, this may require a business to invest in its key technology, process, or people. But in a longer run, these efforts can help a business rebound to its financial health and sustainability after this global downturn gets over.
---
4. Building technology
While this approach is nothing new than what we have been targeting in the corona-less world, the need to invest in technology is now more important than ever. Enterprises and companies have been facing IT challenges for a long time. Now, the pandemic is forcing them to rapidly operate in new ways. There are an array of challenges laid out in front of businesses from building business resilience to making real-time business decisions, workforce efficiency, and more. In such a landscape, investing in technology might be a difficult task but if successful can help businesses to sustain consistent business resilience.
Know that, it is not wise to save capital during times like pandemic as it results in reduced economic growth. To prevent negative returns, companies should make smart technology investments.
In conclusion, every industry has been affected by this pandemic—with varying degrees of severity. And while some companies showcased a stronger immunity to it, others are still struggling to come to the surface. In this scenario, understanding the shifting consumer habit is playing a key role to tackle the disrupting the global supply chains and other business crises.
Informed by daily conversation with our clients, ACE Logic Business Solutions offers industry-specific advice on what leaders should consider doing now and next.